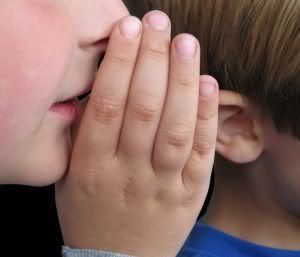 We hear, from birth parents, adoptive parents and professionals alike, that to have a working and strong open adoption, the air waves of communication need to be open and working from both ends. As adults, we understand that at the very core of every successful relationship is a successful communications center. The flow of information from one side of the adult triad to the other is absolutely vital in getting through some of the hardest transitions.
And yet some people don't want birth parents to be that open and honest.
I'm continuously frustrated with the double standard that first families are faced with when it comes to communicating with the adoptive family. Over and over on the forums, we see adoptive families given advice on how to proceed with certain situations that basically lead to birth parents being "put in their place." While boundaries are absolutely necessary to succeed with the open relationship, I'm hesitant when adoptive parents are directed to put boundaries on the information that is shared instead of how that information is shared.
advertisement
Let's get less vague: it comes down to some adoptive parents not being able, for whatever their personal reason, to process birth parents' emotional issues as they continue their healing process. Grief is not easy and it doesn't always follow a set of rules. (In fact, I've described it as "messy" before!) They don't want to hear that the birth parent misses their child. They don't want to hear that, had things been different or if they could make the decision over again, they wouldn't have placed. They don't want to hear that sometimes adoption really hurts on many different levels. And then other adoptive parents chime in and say things like, "Well, they shouldn't be telling YOU these things! Tell them to pay for counseling!"
Change the situation. Your Husband is having an issue with something that you are doing in your marriage. Even the small things, done with enough frequency, can become something large between two people. However, you are unwilling to listen to what he has to say because your train of thought is, "Hey, you married me. It's your fault. Get some counseling and deal with it because it hurts me to hear you talk honestly about me or something that involves me." Instead of being open to hearing what he has to say about something, you are turning off the air waves of communication before they are ever truly opened. You get no where in learning about yourself or your husband. Your relationship doesn't grow and, in fact, it probably begins to wither.
This is no different. The advice that adoptive parents shouldn't have to listen to birth parents as they process their grief, which does involve verbalizing hurt, sadness and loss, does neither side of the adult triad any good. Instead, the advice that should be offered to those trying to figure out what to do in such a situation should hint to the fact that it's not what the birth parents are saying but how they are saying it. Adoptive parents faced with a birth family that is in the midst of processing intense grief and loss issues could be best served by telling their child's first family something like this: "I know you are having a very hard time processing these emotions and I want you to know that I am here for you during this time. I will listen to what you have to say with an open heart and an open mind. However, I will not be open if you take to personally blaming me or my family for your grief and loss or if you present your feelings in an attacking manner." As long as the birth parents are not blaming your family for their loss or "yelling" their emotions at you, there is no reason that you cannot listen to their pain.
If you are finding it personally uncomfortable to listen to how much your child's birth mother misses her during various situations, perhaps you need to ask yourself why. Perhaps, when you're asking other adoptive parents for advice and they state that your child's birth family needs counseling, you should seek it yourself. (Does that sound insulting? Wear the birth parent's shoes for a moment.) If you're having trouble understanding that your child's birth parents are going to need to process that grief and loss and that it does, in an open adoption, involve your presence and your participation at times, seeking out the reasons in your own psyche as to why you're mentally avoiding it could benefit you all.
Birth parents are not to be feared simply because they are going through a hard emotional time. Those feelings ebb an flow over the years. Telling them to come back when they have their act together does nothing to improve the situation. Listening with an empathetic heart could do wonders for your relationship. Setting boundaries for the way the information is passed from one to the other can help create a comfort zone for both parties. True relationships aren't only about sharing the good times and the good feelings. Accepting the bad times and empathizing with the not-so-happy emotions can bring the two sides of the adult triad together… if we're willing to take that leap of faith in truly communicating with one another instead of just saying that we do and glossing over the bad things with a coat of smiles. Real relationships have real problems. Ignoring them or saying that you don't want to hear about them doesn't make them disappear. Be a part of the solution!
Don't let your relationship wither because you felt uncomfortable listening to true open and honest communication. Grow instead!
//
For more on dealing with grief, read:
1. Quantitative Pain: No Grief Gold Medal.
2. Core Issues in Adoption: Grief.
3. When Words Hurt: No Birthmothers Allowed.
//
Photo Credit.