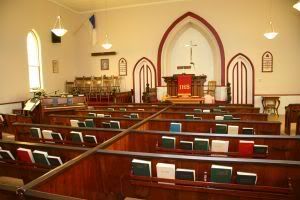 I'm not in the best of moods today. Our Pastor, whom I've spoken of in high regard before, preached his last sermon at our church today. He'll be heading to his new church and we'll be getting our new Pastor this coming Sunday. To be honest, I'm dreading the transition.
As I spoke of before, our (now old) Pastor not only accepted the fact that I was a birth parent but celebrated the relationship I have with my daughter's family. He was encouraging, always had polite and respectful questions and enjoyed hearing stories of the childrens' antics together. Knowing that I have to go through all my initial fears and the anxiety-laden conversation all over again is somewhat daunting.
advertisement
For me and many other birth parents involved in fully open adoptions, this isn't a conversation that can simply be ignored or avoided. The Munchkin and her parents visit us (at least) twice a year and, if children are cooperative, attend service with us if they are present on a Sunday. I prefer, in most cases, to prepare people for their visits instead of just randomly blurting out, "This is my daughter and her Mom and her brother who is sixteen days older than Nicholas who is also her brother and, and, and…" You get the picture. Rather than hiding who they are, especially since they are such important people in my life, I like people to recognize who they are and the importance they hold when going places. Unlike eras gone by, I need to discuss this with my Pastor to ensure he not only respects my decision in general but respects their presence when they visit.
It is true that our religious leaders should be accepting of our past, no matter what good or bad, and celebrate that we are incorporating our faith into our current situations. However, I'm sure my readers know, just like I do, that Christians can and do find fault with things tied to adoption and Pastors are no exception to the rule. While we already know that this new Pastor has a similar background to our previous one (as in, has lived some life to understand that not everything is rainbows and butterflies), no one on the committee asked, "So, how do you feel about adoption? How do you feel about birth parents? What if a birth mother was in your congregation? What is your opinion on openness within the world of domestic adoption?" Unless he specifically tells us the answers to those questions in a totally random sermon, I'll be flying by the seat of my pants.
In the end, even if he doesn't approve of openness, it won't change the relationship I have with my daughter and her family. I do have some anger and frustration that a Pastor who was so supportive of our family unit is being taken from us so suddenly but I'm dealing with it as best I can (with God's help). In the next few months, before the Munchkin and her family descend upon us in all of their glory, I'll have to have the same kind of conversation with this new Pastor. I'll have to have all of my answers as to why openness is good and what it can offer my daughter, my own family and the church at large. I'll have to set aside my anxiety. Honestly, I'm not looking forward to it at all.
I'm feeling a loss today. Part of it is because of the unknown of what is to come and how that will make me feel in the end. Part of it is because I shared such a big part of my life with a Pastor who accepted it, very few but proper questions asked. At the end of it all, I just get tired of having to re-share one of my hardest life experiences with people, only to have them taken away. I can only hope that our new Pastor will be as accepting as our old Pastor and some members of our church family.
//
Photo credit.