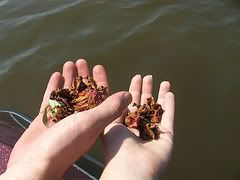 As a birthmother, I never expected to experience any issues with my reproductive organs. After all, I got pregnant unexpectedly with the Munchkin. People assume, all too often, that birthmothers just pop out kids left and right. I was told, more than once, by women experiencing the pain associated with today's remembrance, that I would never know what it was like to experience the loss of a child.
If only those cruel words were right.
We didn't know that we were pregnant. I started experiencing cramps and bleeding on a warm June day. I consulted with my Husband, who is also a paramedic, and then called my OBGYN. They had me come in the next day.
advertisement
I just thought something was wrong. I didn't expect for my doctor to tell me, all in the same breath, that I had been pregnant and that the baby was gone. Forever. In fact, Josh hadn't even accompanied me to the appointment. When I called to tell him, the shock was so evident in his silence and then in the tone when he finally spoke. My Husband is the jovial type but his words were laced with mourning.
I was told by certain Mothers deep in their loss that my grief was a slap in the face of those who had been through so much more. In my time of need, those who could have offered a shoulder turned their back on me because it was assumed that since I already had children, one of whom I "gave away," that my grief was somehow less than theirs. My hurt was palpable. Yet I wasn't free to grieve. Again thankful for my therapist here!
She encouraged us to pick a gender and name for our child. In my heart of hearts, I knew that our lost child was a girl. On the day in which we found out about and simultaneously lost our baby girl, my first rose bloomed. Thus we came up with Rose Angel. We had a memorial on our local State Park's lake. We scattered rose petals from the same rosebush on the water. We said our goodbyes. We hugged. We cried.
I do not claim that our loss was worse than anyone else's; it was our loss and it was awful. We are still experiencing the emotional fallout from the miscarriage as I am scheduled for surgery and a hysteroscopy at the end of this month. We are faced with the unknowns. We don't know if we will be blessed with more children.
But we do know this. We have been blessed, in different ways by a Munchkin, a Nicholas who is, thank goodness, napping and a Rose. My Son has two sisters; one in Pennsylvania and one in Heaven.
Again, my heart goes out to those who even have an inkling of the pain a miscarriage brings to life and death. Sending hugs across the miles.