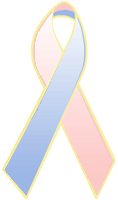 Last month, the House of Representatives passed a Resolution that October 15th is now recognized as Pregnancy and Infant Loss Remembrance Day. If you've experienced a miscarriage, like I have, or the loss of your new infant, you probably don't need a day to sit and remember. Do you? For me, personally, our lost baby pops into my mind at random bits of time, surprising me with her presence. Yet I am happy, if that's the right word, that the Resolution passed.
Too often, those who experience the loss of a pregnancy are told not to grieve. In many ways, often through well-intentioned comments, the Mother's (and Father's) grief is diminished.
advertisement
"You can have another child." So many families are "consoled" with this placating attempt at encouragement. Does the one offering this "fact" know that you can, in fact, have another child? Does this person understand that even if you do have another child the empty spot in your heart will always remain for the child you have lost?
"It wasn't meant to be." How is this supposed to help a Mother and a Father heal? Does that erase the love in their hearts that they felt for this child? Does the amazing fact that it wasn't meant to be make the pain any less real and suffacating?
The list of bad advice goes on; you've heard it. People mean well. They really do. Yet unless the person offering advice has been through the emotional and physical hell that is a miscarriage, they just aren't going to get it.
That's why this day is important to me. I'll share my own story later today. But I just want every Mother and every Father who had their dreams end prematurely to take time today and reflect. No, our children that we have lost are not with us today. Unlike open adoption, they aren't even eight hours away. Even writing this is like opening a wound and pouring a bit of salt in it. It stings. My heart aches. Even worse, on this day where we are encouraged to come together as parents of loss, my heart aches for the fact that so many other families know this pain. Today they are left wondering about what could have been… what should have been.
With a heavy heart, I encourage you, if just for one day, not to supress your anger, your hurt or any other emotion you may feel regarding the loss of your pregnancies or children. Speak up. Let other families know your story. It may be hard for you to put it into words, verbal or written. It may be cathartic. Yet, if your voice helps just one Mother or Father, suffering from the new loss even today, it will be worth it in the end.
My heart goes out to all of you who feel the pain like our family does today. You can read more about October 15th here.