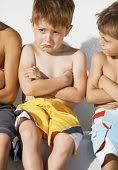 I'm not going to talk politics. I'm simply going to talk about how I am left out of National Adoption Month and the Presidential Proclamation every single year. I understand, at the core, that this month isn't about me. It's about the children who are waiting to be adopted, who need to be adopted. It's about recognizing the need for adoptive parents. It's about celebrating families.
But with that last sentence, I am always left out even though I am part of the Munchkin's family.
Let's look at Bush's Proclamation this year and at one key paragraph that, once again, left me crying into my hot tea, just like every other year:
advertisement
As we observe National Adoption Month, we recognize the many caring families who have made a difference in a child's life through adoption. By giving these children the love, guidance, and support they need to grow, adoptive and foster families play a vital role in helping the next generation of Americans achieve their dreams.
I want to cuss. Honestly. I want to drop big cuss words but, remember, this is a family blog and I'm a family lady and cussing is simply not appropriate in this circumstance. But keep in mind that I WANT to cuss right now.
I have made a difference in my daughter's life. Not simply by placing her with J & D, though that is true. I am involved in her life as much as I can be because we, as a family, have decided that is what is best for her as a Munchkin. I consistently and constantly put aside my own tumultuous emotions which are often hard for me to comprehend simply so I can be available to her whenever she needs me. I want to be there to answer her questions. I want to be there to support her in this lifetime. Nope, I don't parent her on a daily basis. But I have and will continue to make a difference in her life.
It hurts me, on some level which is hard to explain to those who haven't placed a child, to be left out of this proclamation every single year. It feels like a big slap in the face. "Oh, I'm sorry. You mean nothing in your child's life and therefore do not need to be recognized on a month that celebrates every other person in the adoption triad."
Okay, my selfish, whiny moment is over. I know that birthparents are never going to be recognized by this President and it's highly unlikely that they will be recognized in the future. For the rest of the month, I will continue to raise awareness and lift up those children lost within our system that need to find permanent, forever homes. They are the ones who truly matter this month.
But my feelings are still hurt. And I'm gonna pout today.