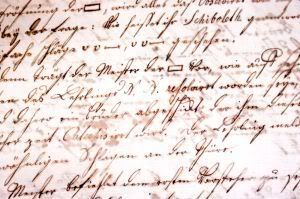 I felt loved this week. Loved because I was respected and, really, that's a good kind of love, isn't it? Because love without respect isn't really love at all. I also felt some validation and some joy. In turn, I was able to return some loving respect as well. It was all very good for the self-esteem, I tell ya.
Occasionally, readers of this blog or either of my personal blogs will contact me via e-mail with questions, concerns, rants, raves or any number of possible reasons for correspondence. I'm always intrigued when I see something in my inbox from a reader that isn't a direct comment from a posted blog. Usually the subject line gives away some of the intent but that only adds fuel to the flames of my curiosity. I ponder the contents of the e-mail for a brief millisecond before clicking the thing open.
advertisement
I had the pleasure of receiving one of these e-mails earlier in the week. An adoptive mom, whom I respect greatly, needed some advice on a matter concerning her daughter's birth mother. She wrote me in hopes that I might have some advice on how to proceed in a somewhat delicate manner. Apparently someone taught this mama how to communicate effectively. Before she asked for help, she buttered me up right good!
Tell me this wouldn't make your day to read:
As I'm sure I've written you before or made clear in posts, I am extremely moved by your open relationship with D & J, and of course, your phenomonal continued connection with [the Munchkin]. I view your open adoption as a model, as a guidepost, as something to work toward. I have learned through you about the depth and breadth of work, commitment and communication involved in getting and maintaining what you have. I read religiously on these matters and always take them to heart for my own personal experience.

I'm sure you've heard this many times before, but you serve as a role model for those of us out here trying to make our way in the world of open adoption. I've learned — and still do — so much from you.
Yes, I got misty eyed. Instead of trying to negate the compliment like I do when given such things in a face-to-face setting, I simply said thank you. Well, okay, I did have to kind of dismiss it by reminding this mom that we have our own flaws in our relationship but then got back on track by stating that the group of us (meaning, J, D and myself) think that our relationship is pretty darn cool, too. I never was all that good at taking compliments directly. I suppose I should continue to work on that.
Anyway, this mom and I continued to have a nice exchange about the subject matter at hand. And her words? Have stuck with me all week (through what has been a rather trying week). And so, on this particular Love Thursday, I want to offer a challenge to my readers.
Today (or as soon as you get a chance), write a small note to someone who has inspired you in your adoption journey. (Not me, I'm set!) Write a personal letter or e-mail or even write a Love Thursday blog about how that person has shaped your views or helped you through a particularly rough patch by encouraging you and lifting you up. Sometimes a small thank you goes a long way to make someone's week.
And what says love more than a thank you?
//
For more Love Thursday, read:
1. Hiccups.
3. They're Not Related. So What?
//
Photo Credit.