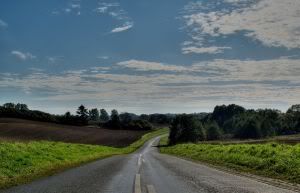 We've had a rough year. We as in the people who live under the roof over my head that, thus, share the name of family. We as in the people who raised us and thus bear the title of family. We as in the people who share a roof with my daughter and thus are also part of our family. Medically speaking, it's been one blow after another for just about every niche in our family. Needless to say, visits have taken a backseat. While it's been a bummer, we've stayed in contact as well as we possibly could and been supportive of each others' issues.
That said: we're planning a visit and I'm stoked!
advertisement
I love the planning phase. I'm a nerd like that; I love organizing things, planning them out and seeing them come to fruition. I like coming up with ideas and seeing what might work for us. I like reading about the visits of others and learning from their real-life experiences. I really love coming up with our own ideas. I'm just kind of funny like that!
J, D, JD and the Munchkin will be descending on our household the weekend before Nick's birthday party (which is the week after JD's birthday!). I foresee some cake of some kind, especially seeing as how both boys love Thomas (the Train). Maybe the weather will be strangely warm (like it is again this week, ugh) and we can take the kids on some walks or to the park. (We did this last November during their visit and have some great pictures of fall clothing, smiles and outdoor life!) Since we're gearing up for birthdays, holidays and new babies, money isn't going to allow us to have a big photo shoot like we did last year but since we (as in D and me) both have really nice cameras, we're planning some self-made photo shoots! (Though, isn't every visit a multi-day photo shoot?!) Unfortunately, if they were coming a week later, we could have a funny holiday picture. Maybe we can find a Santa costume and put it on my (skinny) Husband. That would be amusing, no?
Truth be told, I also don't want to over-plan. (Not that I would have a tendency to do so!) Some of our best moments together have been spontaneous. And, most of all, we all need some downtime! The kids need to nap. They also need to just play with toys. Or, ya know, fight over them. One of the things that D and I love the best about visiting is staying up really late at night, playing video games, talking (and laughing!) and just being friends. Along those lines, I can't ever "plan" how I will bond with my daughter. You can't map out things like that; they either happen or they don't. Thankfully, during our past few visits, those moments have happened in little ways, ways that have stuck with me and I hope have made an impression on my daughter as well.
Even still, knowing that I can't plan everything, this stage of getting ready for a visit thrills and invigorates me. It's just calming knowing that we'll all be able to hang out again in the near future. I enjoy getting our home ready for family, even if it doesn't stay "clean" for long. (Hey, three (almost four!) kids under one roof with four adults? Mess is supposed to happen!)
I love just thinking up these little things to do. I love the anticipation of time spent together. Oh, heck, I just love our unique little family.
//
For more Love Thursday, read:
1. Parenting Advice.
2. Nice Notes.
3. They're Not "Related." So What?
//
Photo Credit.