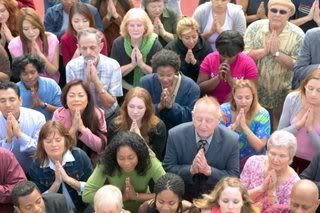 Today our Pastor shared a sermon about asking others to pray for you. Beyond the old adage of there is power in numbers and prayers, he shared the following two verses (and some others) with us:
Therefore confess your sins to each other and pray for each other so that you may be healed. The prayer of a righteous man is powerful and effective.
-James 5:16
Coupled with:
so that there should be no division in the body, but that its parts should have equal concern for each other. If one part suffers, every part suffers with it; if one part is honored, every part rejoices with it.


advertisement
Yet, I was convicted today by our Pastor's sermon. This week is already shaping up to be emotionally draining. The baby that we miscarried this past summer would have been due this week. A very dear friend, for whom I am elated and am already planning gifts upon gifts, just announced her pregnancy. Another beautiful friend will be induced two days after our baby's due date if she hasn't gone into labor on her own. It's just a hard week. Not only is it bringing up feelings of anger and sadness and loss in direct relation to the baby who we will never hold in our arms, it's another reminder of how I had a beautiful baby girl… who is not mine to hold.
Yet, I've been taking the burden on myself. I pray about the sadness I feel. I pray for God to lift the twinges of jealousy or anger that sometimes seep into my heart. But I've never taken the issue to other friends in faith and said, "Please pray for me." Well, I did today.
After the sermon, during the final hymn, I made my way down from the choir loft (meaning that the whole church could see my movement and direction) and found my way to the altar in our church. Our Pastor, who has truly been sent into our lives by God, asked if I wanted his prayers and asked what was going on in my heart. I told him at which time he asked if it was okay for him to share. He then asked the ladies of the congregation who had been through miscarriages or something similar or just felt lead to pray for me to come forward and lay hands.
Our Pastor prayed for my peace, and Josh's, as well as comfort. He prayed that we would both be lead to understand and/or remember that our beautiful baby girl, that we never got to know, is already in His perfect peace. I haven't cried over this since the memorial that Josh and I held on the lake but the tears flowed freely. I felt the presence of God today. I still don't expect Wednesday to be the easiest, most carefree day of my life. But I felt the presence of God today.
Likewise, I need to let my birth parent readers know that I am always (ALWAYS!) praying for you. In fact, I don't really discriminate in my prayers for my readers; I pray for adoptive parents, adoptees and those untouched by adoption as well. However, if you've been dealing with something on your own and you want someone to pray with or for you, please feel free to either comment with a simple "Pray for me" or e-mail me at firstparentblogger@adoptionmail.com . If you want to share details, feel free. If you don't, please don't feel pressured.
However, for my birth parent readers today, I offer this: I pray for your peace. I have not found it yet but from what I understand from other mothers and from God's grace, it exists. I pray for your hearts, that they may be mended. I pray for your bad days, that you will know you are never alone in your grief. We, as birth mothers and fathers, exist in many numbers; let us be there for you. I pray for your good days, that they may increase. I pray for your understanding as you attempt to make sense of what happened in your situation. I pray for your anger, which I have as well, that it may be used for good purposes and not eat away at your soul. I pray for the message that you have to share with others, that it may be heard.
I pray for you, whether you've asked me to or not.
And with that, please pray for me this week.