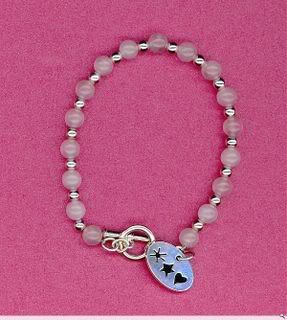 Perhaps you're an adoptive mother looking for a piece of adoption jewelry to buy for your child's birth parent. Perhaps you're a birth parent looking for a piece of adoption jewelry for yourself as physical and outward manifestation of the love you have for your placed child. Maybe you're a birth mom looking for a gift for a fellow birth mother that is having a hard time. Whatever the case, there are a few quality options available right in our very own Adoption Shop.
Sometime in the first year after placement, D bought two Cherished Wish bracelets. One was a gift for me and one was for her to wear. I really treasured the bracelet for many reasons. First of all, I adore the color pink so the rose quartz was right up my alley. Secondly, it was a gift from someone who was fast becoming one of my best friends. Third, the meaning behind the bracelet was beautiful. The poem that comes with the bracelet (click over on the link to read) mentions both nature and nurture and the importance that both play in the child's life. In my first year post-placement, I found this to be a perfect gift because it didn't "scream" of adoption and I thus didn't have to explain to unwelcome questioners anything about the adoption. They now offer a Cherished Wish Italian charm bracelet as well!
advertisement
A bracelet that I don't have but somewhat covet is the Birthmother's Bracelet. Each of the beads have different meanings, from pearl to rose quartz to a leaf and a star. (Click over to the link to read what each specifically means.) I specifically like what is said about the cord that the bracelet is made on:
And finally, these beads are strung on a fine wire cable, to remind all birthmothers that they are connected, and that we are stronger together than we are apart.
We are stronger together than we are apart, no matter our generation or status. I find the sentiment to be beautiful and quite moving, especially when given from one birth mother to another.
I received the following necklace last year. I don't wear it often, mainly because I don't frequently wear necklaces! Also, I wear it in a space where I know I am with people who love me and respect the relationship I have with my daughter's family. (I've also worn it on two occasions to stir up trouble but it didn't work! Bummer.) The Adoption Infinity Circle necklace is silver, simply and, in my opinion, stunning. (I do like silver!) With adoption written on the necklace three times, to symbolize three parts of a triad, it isn't for those who are unwilling or unable to answer questions posed by those admiring the necklace. I think it would make a perfect gift for a mother who had found her own peace in her adoption walk or was working towards adequate reform. Either way, necklaces with words are often ice-breakers so perhaps a birth mother could wear it to a support group meeting. In short, this gift isn't for the faint of heart in adoption.
A note on gift-giving by adoptive parents to expectant parents: I am a firm believer in keeping gifts prior to the signing of the Termination of Parental Rights small and appropriate. While these three pieces are not high in price, there is a fine line to walk when it comes to subtle coercion and the giving of gifts. Even if you do not intend it to be coercive, giving an expectant mother who has not yet signed over her rights a gift that says, "You ARE a birth mother" is coercive. I encourage these specific gifts to be given on occasions like first birthdays, personal birthdays or even for finalization as a continued promise towards your open relationship. Prior to that time, I find it hard to say what is and is not "acceptable" from situation to situation. My favorite example in my own experience was a gift of maternity pajamas from J & D when I was definitely showing. It wasn't a gift that said, "Hey, you aren't a mother so you need to give us your baby." In fact, it said the opposite. To me, it was an acknowledgement of my motherhood. No one else bought me maternity clothes of any sort during my pregnancy.
Enough personal opinion on gift giving! If these don't specifically tickle your fancy, don't forget the wonders of sites like Google and eBay. Both D and I love Italian charm bracelets so we've bought charms that have the Munchkin's name on them, her birth stone and customized ones with her birth date. That's a great idea for a starter bracelet!
//
For More, read:
A Mother's Bracelet: Part of My Healing Process.
//
Photo Credit: AdoptionShop.